The most integral part of any modern kitchen is a dinnerware set. The majority of today's dinnerware is tough enough for the daily grind and nice enough for weekend entertaining. This is because of simpler understated patterns and and more streamlined designs that bridge the gap between casual and fine dining. Dinnerware has become more durable than it was 5 years ago. They're characterized by nontraditional shapes, such as elongated ovals, rounded squares, triangles and octagons. All these factors make gifting dinnerware an ideal option that will really come in handy to the one it's being gifted to.

Having the right selection is the key here! There are innumerable options out there for dinnerware that you may find yourself baffled. You'll find a wide selection of patterns, colors and schemes and also a wide selection of designers as well. Some of the very best may be a little costly, but it is well worth it for their workmanship.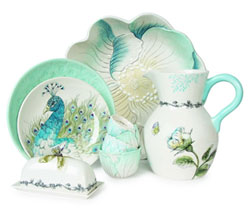 But how do you choose the right dinnerware option for your gift? There are several things to take into consideration here. For example, it is important to think about the quality of the piece. Purchasing something very nice, such as china, is a great option but if the recipients of the gift might use the dinnerware daily with small children around, you will need to move a notch down to the lesser expensive options!
Nevertheless, the most important element in choosing the right dinnerware gift is that you need to consider the tastes and lifestyle of the person it is being purchased for. Keep in mind the pattern of the room it will be used in as well as the pattern of the furniture, colors and materials are also things to take into consideration.
Now-a-days, dinnerware gifting is not only restricted to plates, bowls and cups; it also includes a number of non-traditional pieces like tableware items. These products are mostly used on the dining table and can be purchased to provide a complete look to the dinnerware set you intend to gift.
Dinner Set
When gifting a dinner set to someone, it is important to keep in mind the kind of room décor they have. If the dining room is super-modern and minimalistic, you should select a dining set that is also modern, simplistic and sleek. On the other hand, if the dining room is feminine and pretty, a more traditional antique-style dining set would enhance this theme. But if you're not sure about what kind of décor they have and want to play it safe, stick to simple patterns and neutral colors that one will not tire of quickly - go for a classic look and simple lines that will blend with any decor.
Dinnerware is offered in open stock so you can grow the set over time - that's the best option. You can choose from crystal materials, porcelain, stone and ivory with a gold trim. An interesting twist would be to gift personalized dinnerware sets called "monogrammed dinner ware" where you can have the person's name or initials printed on the plate. This not only looks elegant but also adds a personal touch to the gift. The last thing to make note of is not all types of dinner sets are best for everyday meals; some are more suited to the formal dinner.
Cutlery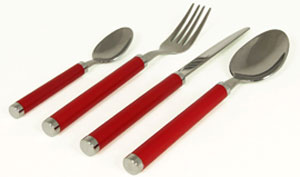 Cutlery is a fancy word for silverware or flatware. It's the pieces we set on the table on a daily basis - forks, knives and spoons. Cutlery is the most crucial element in achieving the perfect dinnerware set; it is an indispensable part of a table setting. There are many grades of cutlery, ranging from the inexpensive department store collections to professional-grade sets. Studies have shown that cutlery can contribute as much to the enjoyment of a meal as the food itself. Cutlery patterns come in all varieties, from the plain to the ornate. Most people like to hit a happy medium, choosing a pattern that works well for formal or informal dining. However, some people may want to choose two sets - one for each type of dining.
Crockery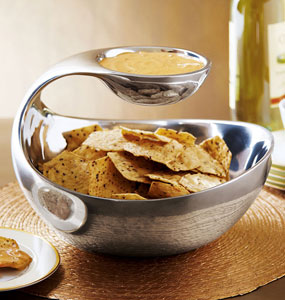 You really have to be smart when gifting crockery by considering its quality, durability and even defects. There is a lot of cheap crockery in the market today such as plastic but you might want to think twice before buying this kind as it may not last long. Off lately there has been a lot of inventiveness in crockery items found in the market. Manufacturers have taken simple crockery products and converted them into something new with a pinch of creativeness. Look out for these innovative products as they will add a touch of edginess to your gifts.
A Ceramic Letter Dish is one of these innovative products; these elegant ceramic dishes are in the shape of alphabets and numbers and a fun way to serve nibbles or chocolates at a house party. They are also perfect for giving as wedding gifts or to use as a wedding centerpiece. A stylish steel one-piece chip and dip dish as a gift, for salads or nachos will prompt compliments from any receiver. And the handiest innovation in crockery is cups with side pockets in them to place teabags or biscuits to dip. The perfect bowl for just about everything we eat, the Obol can keep your cereal crunchy, your pie a la mode from pie a la melting, and your cookies at the ready to dip in milk. Whatever you choose, whether plain plastic or elegant glassware make sure you pick the one that fits their lifestyle.
Table Decorative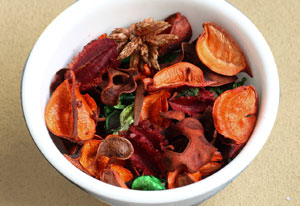 When we prepare all that's necessary to lay the table, we shouldn't forget the accessories, which will give the meal a special character. The trend now-a-days in dinnerware gifting includes tableware products that add a new dimension to dinnerware gifting. These tableware products are mostly related with enhancing the overall look and feel of the dining table. Potpourri is one such product; it is basically a mixture of dried, naturally fragrant plant material to give the air a pleasant smell which is usually placed on the table in a decorative bowl. These potpourri gifts are quite popular during festive seasons, especially Christmas. They last for several months, making it a practical as well as classy gifting choice.
Table Scatter Crystals is another gifting trend on the rise, these are perfect for those who love throwing dinner parties and don't mind going an extra mile to style up the party ambience. These stunning crystals are professionally cut in the shape of diamonds to catch the candle light as it shimmers across the table. For those with simple taste, the tea light holders make a lovely gift. As they are lit they shine and glimmer giving a warm glow. Apart from the dining table these tea light holders can also be used around the home, in the lounge and along mantle pieces, thus making them multi-purpose. The table cloth or table linen does not generally come in mind for dinnerware gifting, but a table linen is in fact the basis of every well-decorated table. It should hang down on each side of the table by about 20 centimeters. The color should match the color with the tableware. If the tableware is plain, you can choose a tablecloth with a more interesting pattern, color or design.
Candle Holders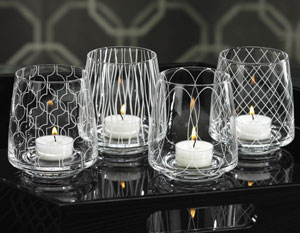 Candleholders make fantastic gifts for all types of people; this is one safe gifting choice where you can't go wrong. For the creative types and for the art-lovers they make brilliant table decoration; they are also an ideal wedding gift or anniversary gifts for the hard-to buy-for. They are generally styled on hall table entranceways, dining tables, consoles, in the bedroom on bedside tables or dressing tables. Irrespective of the placement of these candle holders, they are sure to make a statement in any decoration. Decorative candle holders are quite popular. These come in different sizes, patterns and colors to match any decor or occasion. Some feature patterns on the outside of the holder, so when a lit candle is placed inside, the patterns or pictures will be projected onto a wall.
Napkins & Napkin Rings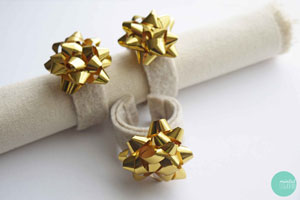 Napkins are essential on every table. They just don't have a hygienic role, but they're also a decorative element. If you want to underline the importance of the gathering, you need to think of getting linen napkins. While gifting, keep in mind that they should match other decorative elements of the table of the receiver of the gift. To be on the safer side choose neutral colours with minimalistic patterns that will go along well with any decor.
A napkin ring's purpose is to secure a clean, folded napkin neatly at a place setting until the diner is ready to use it. Napkin rings can definitely set off a formal place setting, making a table look elegant, these can be narrow rings or very wide rings also. There is a wide variety to choose from Glass Napkin Rings, Beaded Napkin Rings, Decorative Napkin Rings and Silverware Napkin Rings. There are also place mats that come with napkin rings attached to it so that they do not get lost or separated from the place setting.
Trivets and Coasters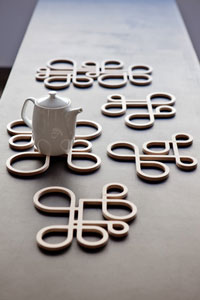 Wooden tabletops, especially those finished with varnish or lacquer, are easily marred by setting hot pots and pans on the surface. To protect table surfaces from scorching and discoloration, place a trivet underneath the pan to absorb the container's heat. The most protective trivets are usually a small three-legged metal tray placed on a dining table to protect it from hot food containers. To ensure stability, trivets with legs should have non-skid bottoms.
There are plenty of trivet styles today to choose from; trivets can be season-specific, like resting that holiday roast on top of a beautiful, framed poinsettia trivet. Or they can be funky, and fun, like the popular cat or dog trivets, shaped like your favorite animal. Make a note to gift flat trivets with felt protectors on the bottom to protect tabletops from nicks and scratches. Avoid trivets made from paper or cardboard as they may adhere to the table's surface if they become wet or soiled with spilled food.
Make sure you take out a good amount of time when shopping for dinnerware as a gift, because the kind of dinnerware you choose will reflect your style as an individual. But don't let this stress you, as shopping for dinnerware is truly an enjoyable experience with the innumerable options available for every occasion. And just to be on the safer side, you may also want to make sure the store has a return policy, so they can return it if they don't like it or if it doesn't match their china or other silverware patterns.