WAMA is a leading manufacturer and exporter of home appliances. Guided by their philosophy of delivering perfect tools for the kitchen, WAMA has developed and introduced several path breaking and innovative products across countries and now in India. WAMA started with a modest beginning and today is targeting the world as its market.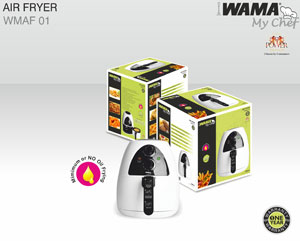 It entered India in the year 2009 with a mission to create best quality appliances using cutting-edge technology. The man behind the illustrious success story of WAMA is Mr. Dilip Gurnani, who took over the reins of the business in 1994. Working with a wide range of appliances over a long period of time and by regularly moving high volumes, WAMA has achieved a good reputation in the production and sourcing field which helps them meet the competitive targets of their discerning customers in the world market.
After having sold more than 5 million units across the globe and still counting, in its two decade old global tryst with destiny, WAMA's twin watchwords have been 'Quality' and the 'Ultimate Customer' - even the logo of brand WAMA is of a 'Queen' as they intend to make brand WAMA the 'queen' of appliances.
The endeavor and ability to combine 'state of the art' technology in its products with good old values of truthfulness trust and reliability in their conduct and dealings with their trade partners and ultimate end-users is WAMA's real strength. Introducing innovative products in the Indian market place and then striving to create brand awareness through product awareness is the real idea and intent behind WAMA.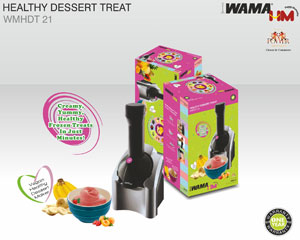 At WAMA there is a great emphasis on quality checks at every step of the process and a careful evaluation is conducted during each step of the operation to ensure that excellence prevails throughout. WAMA believes that prompt delivery is essential in today's competitive world and thus they always work towards fulfilling their delivery commitments.
Backed by an enviable success record, WAMA has continued its trend of excellence across various international markets and in India, where it has firmly established its roots in various cities of Maharashtra, Gujarat and Madhya Pradesh.
WAMA's product range is designed to cater to the entire target customer audience and today it boasts of various sub-brands such as 'WAMA - NGA', 'WAMA Elite', 'WAMA My Home', 'WAMA Care', 'WAMA My Chef' and 'Shree WAMA'. All these products match the standards of major quality certifications of the world such as CE, GS and ROHS.
WAMA is the first home appliance company to introduce a fully stainless steel body mixer-grinder in India in 2010. Further, to reinforce its groundbreaking nature it introduced QR Code as an IT tool for its patrons in the Country - again a first for the appliance industry. Displaying the qualities of a true market leader always striving for supremacy, WAMA introduced a fully automatic 'Bread Maker' in its product range in the year 2012. A well-appreciated endeavor, it garnered an unmatchable customer loyalty and popularity for the brand.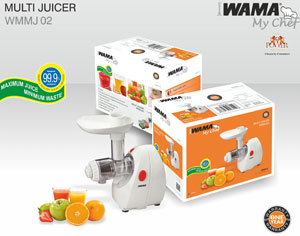 WAMA plays it smart when it comes to communicating with its potential customers. It uses a judicious mix of traditional advertising combined with creativity to promote its products. It employs various publicity modes such as BEST buses, local trains, hoardings and banners to reach out to its target audiences. It also regularly features its products in the print media - newspapers, magazines and brochures. The company also actively participates in trade and consumer fairs as well as local events.
Right from design to production and from marketing to after-sales service, WAMA has put in dedicated efforts and professional commitment. This has resulted in accelerating their progress and maturity in the industry and making them a force to reckon with.
Presently WAMA is catering to a variety of international clients through their offices at Madrid-Spain, Ningbo-China, Hong Kong, and Havana-Cuba. WAMA is extensively marketing its products in the European Caribbean and African markets. All their products have a high level of customization keeping in view the specific needs and requirements of the consumers of these markets.
WAMA works for the betterment of all their stakeholders - customers, trade partners and the society at large. They fully comply with all governmental rules and regulations and follow proper accounting and tax procedures. With their trade partners, their effort is to give them best-in-the-industry deals, discounts and products. WAMA's 'No compromise on Quality' policy yet competitive end prices makes it a unique brand in the market place!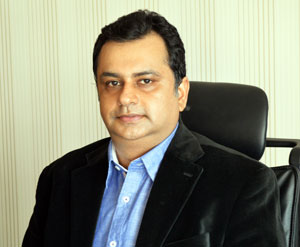 "It brings us immense satisfaction that WAMA has become an acclaimed brand and has accomplished whatever it aimed for. We are proud to have established a brand that is well appreciated and accepted in such a short span across all our markets. It is a testimonial to the unflinching faith, commitment and hard work of all our associates - our trade partners and employees and to the discerning taste, commitment and loyalty of our end users. We are thankful to all of them." - Dilip Gurnani, Director and the moving spirit behind WAMA.