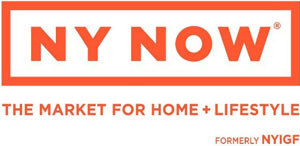 Know as the New York International Gift Fair until last year, the show has now rebranded itself as "NY NOW, the Market for Home + Lifestyle." NY NOW is produced twice annually by GLM Markets and is open to the trade only. Held in January & August in New York City, the Market hosts 2,800 exhibiting companies showcasing the very best lines across the home, lifestyle and gift spectrum.

NY NOW, the Market for Home + Lifestyle, will take place from August 16th - August 20th, 2014, at New York City's Jacob K. Javits Convention Center. Each year in August a range of industries come together to showcase the newest ideas and innovative designs from across the globe. It is an eclectic mix of merchandise covering categories that range from over the top luxury, to masterfully hand-crafted, to technologically innovative, to clever and affordable. NY NOW's four comprehensive collections - Home, Lifestyle, Handmade and New! - will encompass 100,000 products in 400 plus product categories. Some 35,000 attendees from all 50 states and more than 80 countries worldwide are expected.

NY Now Home presents a comprehensive collection of 1,200 home furnishings, home textiles, decorative accessories, tabletop and gourmet houseware. A juried cross-category collection of contemporary design resources will continue to be presented under the renowned Accent on Design® banner and within NY Now Home.

NY Now Lifestyle will showcase a broad spectrum of merchandise categories, including giftware, personal care, stationery, fashion accessories and children's products and have around 1,100 exhibitors.

NY Now Handmade offers nearly 500 handcrafted resources - representing all home and lifestyle categories and crafted in all types of media - with distinct groupings of designer-makers and global import resources.

NY Now New! spotlights newcomers to the New York market in a cross-category collection of home and lifestyle products. Some 250 new-to-market exhibitors will be grouped together at Pier 94.