Having a hard time choosing the right cookware set for a gift or even your own home? It's not easy. The number of cookware brands seems to be growing every day and the range of pots and pans is enormous with materials varying from stainless steel, cast iron, aluminium and copper. And confusing the issue even more is the clad style cookware range which is made up of two or more different metals.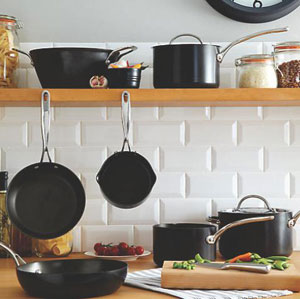 So with all this in mind how do you eventually decide on the right type of cookware whilst keeping within your budget? The answer is to know exactly what you want before you buy. In a nutshell this means that you need to know enough about cookware to enable you to make an informed decision.
In considering cookware, it's helpful to keep in mind that 85 percent of the world's cookware sales come from three types of materials: stainless steel, aluminum and hard-anodized aluminium. Within those materials, there are other features that differentiate cookware. Stainless steel is the most versatile - it doesn't pit or corrode and doesn't react with acidic or alkaline ingredients. But stainless steel doesn't conduct heat too well, so be sure the set you buy comes with good heat-conducting features.
Anodized aluminium is another good choice for a set, although it can be difficult to see inside the dark pans and they aren't dishwasher safe. High-quality non-stick cookwares made of good heat conducting, thick gauge aluminium is suitable too, but remember that non-stick usually doesn't heat like regular cookware. After you've figure out what material or brand you want to gift from, the next step is to decide whether you want to gift an entire cookware set or just pots and pans individually, may be even appliances like toasters and grillers.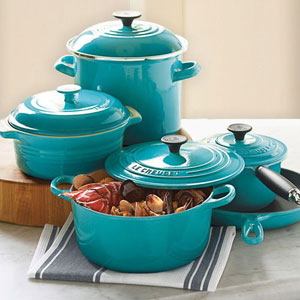 The most basic cookware set is a set with a saucepan with lid and a frying pan. A detailed and full-fledged set actually includes three skillets: an eight-inch one for omelets, a nine-inch one for several burgers and a deep-sided 12-inch skillet for cooking a one-dish dinner. In addition, you might want two - and three - quart saucepans for heating soup or steaming rice and veggies; a four - to six - quart Dutch oven for stews and pot roasts; and an eight-inch stockpot for pasta and soups.
Cookware sets are intended for all-purpose use. That's why it is important to buy one made of materials you can subject to a variety of cooking methods. Cookware sets are worth considering because they offer unbelievable savings. But to be sure the set really is a bargain, make sure the pieces provide a variety of functions and don't duplicate each other. Sets are very economical - but only if you need every piece in them. If the receiver of the gift already has plenty of saucepans and skillets (or vice versa), it makes more sense to buy them individually for a decent price.
Frying pans are skillets that have moderately high, slightly flared sides. They are useful for all kinds of pan-frying, as opposed to deep-fat frying (in which food is completely immersed in hot fat).A good frying pan also doubles as an omelette pan. Traditionally, omelette pans featured a slightly rounder bottom than classic frying pans to assist rolling or flipping the eggs, but the terms are often used interchangeably.
Saucepans are culinary workhorses, used to cook everything from classic haute cuisine sauces to oatmeal. Because they perform so many different functions, you'll need several types, in several sizes. Another variation in pans is the saute pan, saute pan is designed to brown and crisp the surfaces of foods. It should be wide because ingredients need room to brown well. The pan also must be flat, so you can move it easily over the burner.
Stockpots and large soup pots are also a great gifting option. They can be used for any food that requires a large quantity of boiling water. Well-designed stockpots are tall and narrow and pots for making soup may be shorter and wider. A stockpot should have a capacity of at least eight quarts whereas soup pots may be of four to six quarts. The best choices for stockpot and soup pot material are stainless steel with an aluminium core (or aluminium disc on the bottom) or anodized aluminium. Just make sure the stockpot or soup pot has roomy handles secured with rivets or thick, heavy screws.
If kitchen appliances are what you are interested in gifting, then get prepared to be spoilt with choices with the large variety of options available. Food processors slice vegetables in a fraction of a section as compared to time it takes to do these tasks by hand. They are also the tool of choice to make pastry dough. All food processors come equipped with a clear plastic bowl that locks onto the base, a lid with a feed tube for adding ingredients to the workbowl while the machine is running, an S-shaped blade for chopping, and an assortment of discs for slicing and shredding.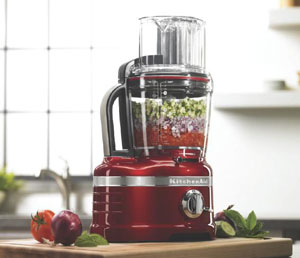 The best hand mixers offer at least six speeds plus a "soft" or "slow start" feature to reduce splattering. Handles that slant up towards the front of the mixer (as opposed to running parallel to the mixer body) are more comfortable to grip and are designed to reduce the strain on your forearm. Touch pad controls are easy to wipe clean. Avoid models with seams on the underside that can trap ingredients. When opting for a juicer you can choose either electric juicers or manual as both produce a large amount of fresh citrus juice efficiently.
A grill pan is used to cook a variety of vegetables as well as meat, but it's known as a perfect companion for BBQ lovers. Grill pans have a specially textured sear non-stick surface with deep ridges that perfectly brown and lock in flavour to your food, while a handy press guarantees even thorough cooking. They are mostly crafted from heavy-gauge hard-anodized aluminium with stay-cool handle.
Though they may sound almost the same, there are many differences between a pressure cooker and a rice cooker. Pressure cookers cook all types of foods quickly, while rice cookers are typically only for cooking rice, and do not speed up cooking time. A pressure cooker and a rice cooker are both common in the modern kitchen. There is also a pressure-rice cooker, which uses pressure cooking technology in the rice cooker.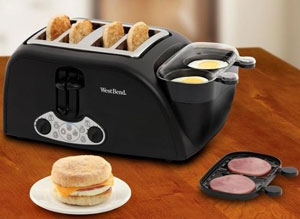 If the receiver of your gift believes that a hearty breakfast meal is the best way to start one's day, then gifting them a 3-in-1 Toaster is the apt choice. This machine combines three necessities: coffee maker, toaster oven, fry pan in one appliance itself. A perfect specialty appliance for small apartments, offices, or wherever space is limited.
A waffle maker is something similar to a frying pan which has 2 plates with the grids on each side to form it into a waffle shape. Common waffles are thinner with smaller holes or impressions as in comparison with Belgian waffles. Belgian waffles, therefore, are thick, with some crispness, and have a lot bigger holes or impressions. Some people desire dark brown waffles while some desire lighter ones. To satisfy browning preferences, some waffle maker models include browning settings so that you can never go wrong. Other models additionally feature temperature settings. Just make sure that the dimensions of the waffle maker you choose ought to suit the available kitchen space.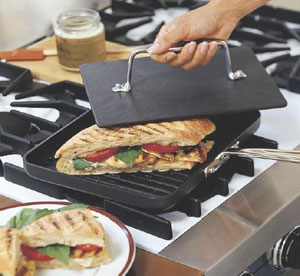 Induction cook top is a stylish and efficient stove that runs on electricity and is faster than a gas stove. The best part about using a cook top is that it retains the nutrition in the cooked food, while preventing vitamin loss. They are gaining popularity across the globe because of their safety, energy efficiency, and relative ease of cleaning. All induction models should have standard features such as a smooth top and faster heating, so your choice will spring from the size and type you need. There are cook tops that come separately, for those who want to replace or buy a built-in variety; stand-alone models have an attached oven. The sizes of both are fairly standard when compared to gas or electric models, so replacement should be straightforward.
A final note to end with, whatever the type or brand of cookware you choose to gift, it must be well designed and safe to use. Look for well-balanced pots and pans that are heavy enough to prevent denting or warping. Be sure the handles are comfortable to hold and strong enough to support and manoeuvre the pan easily. Check to make sure the handles are attached securely, either with rivets or sturdy screws and also make sure the lids fit snugly and have knobs or handles that are large and easy to grip.
Also, do keep in mind that these hallmarks of good quality come at a price. But it pays to buy the best cookware you can afford. Cheaply made pots and pans don't perform well and deteriorate easily, which when gifting someone is not what you want. Buying good cookware in sense-making sets can prove to be valuable gifts for your loved ones.